RT @mkraju: McCaskill tweeted she never met with Kislyak. Turns out she was at a reception at his home honoring a friend. https://t.co/SEI… 2 hours ago
RT @RevDrBarber: We would not be facing the potential deconstruction of healthcare if we had the full protections of the Voting Rights Act. 2 hours ago
RT @JesusOfNaz316: People inflict harm onto others as a demonstration of their power. This power is grounded in fear. It seeks to protect i… 2 hours ago
An error has occurred; the feed is probably down. Try again later.
Worship First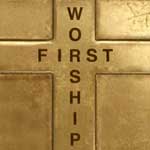 What Saint are You?
I am St. Justin Martyr!
You have a positive and hopeful attitude toward the world. You think that nature, history, and even the pagan philosophers were often guided by God in preparation for the Advent of the Christ. You find "seeds of the Word" in unexpected places. You're patient and willing to explain the faith to unbelievers.
Find out which Church Father you are at The Way of the Fathers!