RT @iamfonda: Go to the hearings or leave the state. It's about your right to vote! The chance won't come again, dudes and dudettes. https:… 7 hours ago
RT @DavidCornDC: You know, it's really not that hard to get through life without being identified with the Ku Klux Klan. 7 hours ago
An error has occurred; the feed is probably down. Try again later.
Visit the Church
The Daily Office
Worship First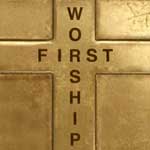 What Saint are You?
I am St. Justin Martyr!
You have a positive and hopeful attitude toward the world. You think that nature, history, and even the pagan philosophers were often guided by God in preparation for the Advent of the Christ. You find "seeds of the Word" in unexpected places. You're patient and willing to explain the faith to unbelievers.
Find out which Church Father you are at The Way of the Fathers!