RT @RevMindi: Part-time ministry is a joke. There is no such thing except part-time pay. Big problem is that we cannot find additional pt t… 1 week ago
Seeing is Believing wp.me/pAsj6-rD 2 weeks ago
RT @ChruchSecretary: We like to say that our church is traditional yet always adapting to reach our community. It isn't, but that's what w… 2 weeks ago
An error has occurred; the feed is probably down. Try again later.
Worship First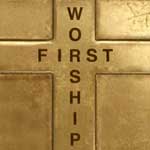 What Saint are You?
I am St. Justin Martyr!
You have a positive and hopeful attitude toward the world. You think that nature, history, and even the pagan philosophers were often guided by God in preparation for the Advent of the Christ. You find "seeds of the Word" in unexpected places. You're patient and willing to explain the faith to unbelievers.
Find out which Church Father you are at The Way of the Fathers!