RT @Evan_McMullin: Trump used to brag about his relationship with Putin and now both deny knowing each other. There must be a reason. https… 4 hours ago
RT @Sifill_LDF: Oh my God. #DeVos just said that states & school districts should decide whether to meet the Indiv/w Disabilities in Educ A… 5 hours ago
RT @WajahatAli: Betsy DeVos says public schools are a "dead end." They educate 90% of our kids. She's Trump's pic for Education Sec. Let th… 5 hours ago
An error has occurred; the feed is probably down. Try again later.
Worship First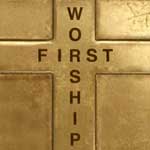 What Saint are You?
I am St. Justin Martyr!
You have a positive and hopeful attitude toward the world. You think that nature, history, and even the pagan philosophers were often guided by God in preparation for the Advent of the Christ. You find "seeds of the Word" in unexpected places. You're patient and willing to explain the faith to unbelievers.
Find out which Church Father you are at The Way of the Fathers!