RT @ddale8: He was running unopposed, but still: more than 20,000 Illinois Republicans decided to vote yesterday for the former leader of t… 1 day ago
RT @MSNBC: A week after sanctions and the conclusion Russia was behind the spy poisoning, Trump calls Putin to ... congratulate him. https:… 2 days ago
RT @Limericking: A fellow objected to thought, Refusing to learn or be taught, Like when he'd applaud A strongman abroad In spite of instru… 2 days ago
An error has occurred; the feed is probably down. Try again later.
Visit the Church
The Daily Office
Worship First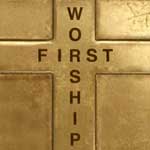 What Saint are You?
I am St. Justin Martyr!
You have a positive and hopeful attitude toward the world. You think that nature, history, and even the pagan philosophers were often guided by God in preparation for the Advent of the Christ. You find "seeds of the Word" in unexpected places. You're patient and willing to explain the faith to unbelievers.
Find out which Church Father you are at The Way of the Fathers!