Phyllis Tickle talks about a needed change in the mainline…and the short time we may have to do it. 24 Months
An error has occurred; the feed is probably down. Try again later.
Worship First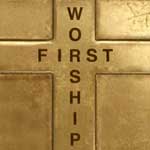 What Saint are You?
I am St. Justin Martyr!
You have a positive and hopeful attitude toward the world. You think that nature, history, and even the pagan philosophers were often guided by God in preparation for the Advent of the Christ. You find "seeds of the Word" in unexpected places. You're patient and willing to explain the faith to unbelievers.
Find out which Church Father you are at The Way of the Fathers!