RT @AdamSchiffCA: Before meeting Putin, the President will play golf at his course in Scotland, which he paid for with millions in cash. Wh… 8 hours ago
RT @keithboykin: 100+ criminal counts 35 total indictments 32 people indicted 3 companies indicted 5 guilty pleas Paul Manafort in jail Mic… 17 hours ago
RT @robreiner: It's this simple: The United States of America was attacked by a foreign enemy power and our President refuses to defend us. 17 hours ago
An error has occurred; the feed is probably down. Try again later.
Visit the Church
The Daily Office
Worship First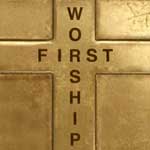 What Saint are You?
I am St. Justin Martyr!
You have a positive and hopeful attitude toward the world. You think that nature, history, and even the pagan philosophers were often guided by God in preparation for the Advent of the Christ. You find "seeds of the Word" in unexpected places. You're patient and willing to explain the faith to unbelievers.
Find out which Church Father you are at The Way of the Fathers!